Customer Reviews
02/10/2022
tamara j.

United States
Love them
I love the color and the fit but it has a weird smell on the material because of the type of leather . Overall I love the pants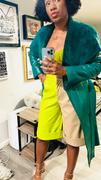 04/08/2021
Teneka

United States
Love But Size Up!
I love this brand and the quality of the items. The customer service and service delivery is always exceptional. The only issue is with most of the items you have to size up. The sizing chart is not accurate in my opinion which it makes it difficult to order the correct size. I love these shorts. The quality and description was complete incredible but the sizing is my only compliant. I had to return to get a larger size. I would recommend them for purchase but you definitely want to size up. And honesty I would recommend sizing up for most if not all of their items. ❤️
01/26/2021
Shaunte A.

United States
Beautiful Set!
Quick shipping. The clothes look even better in person and fit beautifully.